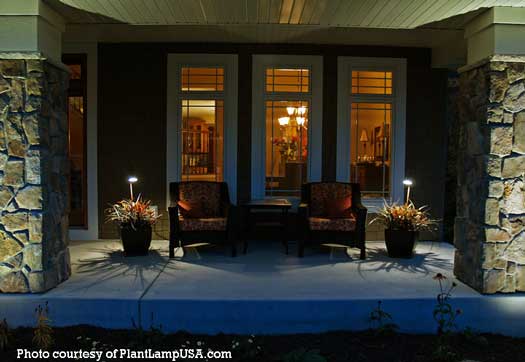 Sitting on the front porch, sipping on a glass of tea is a vision of relaxation. If you are fortunate enough to have a front porch, then take time to make it a space that adds value to your home by presenting it in a way that is comfortable and inviting. A fresh coat of paint can give the space a whole new feeling. Basic white will give it that fresh, clean look. Don't forget the steps. You may want to paint them the same color as the door to create unity between the inside and out. Your furniture will look new, as well as stand out, when painted with a complimentary color. Colorful cushions and throw pillows will make the seating more comfortable. Rather than use an area rug that might be exposed to the elements, try painting one directly on to the floor boards using exterior paint and stencils. You may even want to paint a runner that takes guests right up to the front door. Greenery can be placed in pots, or hung from posts. Ferns are always a classic look. In order to enjoy a book in the space during evening hours, add lighting with a lamp or two. Candles may also be a source of light and add ambiance, as well. Your front porch is an extension of your home, an outdoor room that can be used to relax, read a book, take a nap, or share a meal. A welcoming space at the entryway to your home calls out to others to stop on in for a visit, sit awhile, and share a conversation, even if only for a little while.
Design2Sell Interiors & Home Staging ** WE STAGE ATLANTA
Design2Sell offers Home Staging & Interior Design Services
in the Metro Atlanta area.
Barbara Heil-Sonneck has been featured in several publications. The Atlanta Journal Constitution, The Home Improvement Magazine, Radio Shows and more…
For a free home staging proposal,
contact us @ (678) 778-8642
or www.HomeDesign2Sell.com